"I can't speak highly enough of the School of Rural Health here. They are very passionate about rural health and very encouraging. They are great
advocates for regional medicine."
Medical Intern Orange Health Service,
GABRIEL GURIEFF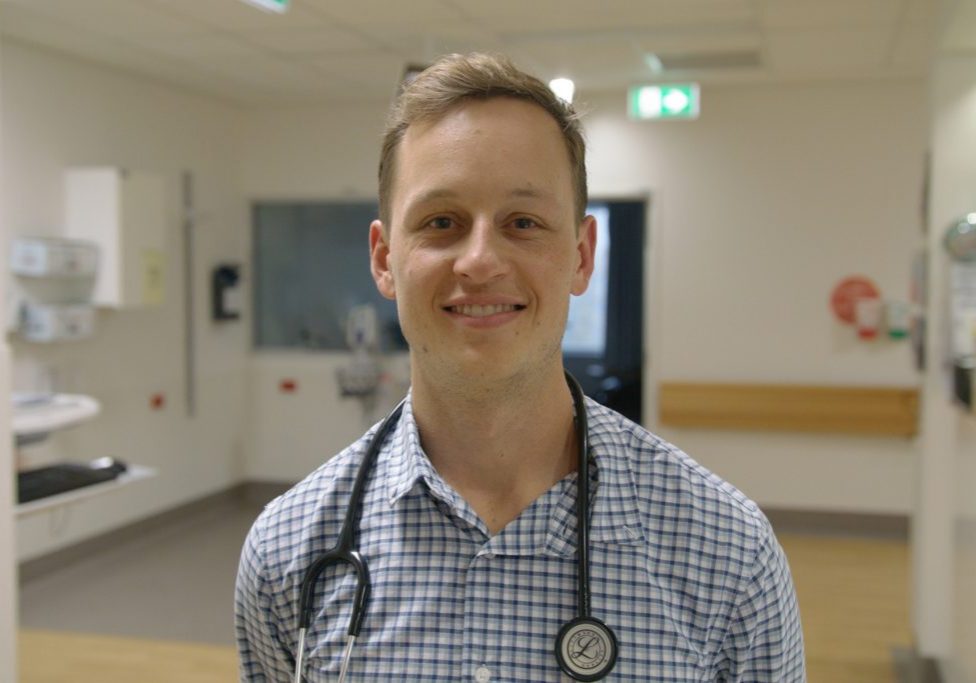 INVESTING IN THE HEALTH OF THE REGION
Gabriel Gurieff first moved to Orange to complete the fourth year of his medical degree with the School of Rural Health, University of Sydney, based out of the Bloomfield Campus.
Gabriel stayed on in Orange after successfully gaining a sought-after position as a medical intern with the Orange Health Service post study. He is in his first year of a two-year intern contract and says he wouldn't have chosen anywhere else.
"I undertook my medical studies with the University of Sydney and as part of the program they offer a year of placement out in the rural centres," Gabriel explained.
"The options are either third or fourth year in Orange, Dubbo, Broken Hill or Lismore at the clinical schools affiliated with the hospitals there.
"After moving out from Sydney, the School of Rural Health in Orange were immensely supportive.
"They ensure students have assistance with getting settled in the area and are very encouraging for people to consider a future in the health industry out here.
"They were also very helpful when it came time to apply for internship positions with training for the interview and extensive support.
"Gaining an internship in Orange is quite competitive with 80 people interviewed for the 17 positions in my year of intake.
"I can't speak highly enough of the School of Rural Health here. They are very passionate about rural health and very encouraging. They are great advocates for regional medicine. I owe them a lot for their encouragement and support."
Gabriel believes the standard of medical facilities, the lifestyle, and the community make Orange a popular choice for medical students and interns.
"Everyone appreciates the lifestyle here," Gabriel outlined. "It's a lot more functional. You don't have to spend an inordinate amount of time in traffic. It has everything that most of us appreciate as far as lifestyle is concerned and it's not an expensive place to live.
"Orange is popular because it's not Sydney, but it's not far away from Sydney. Orange provides a regional lifestyle that I think a lot of young people are coming to appreciate.
"The hospital is new, and state-of-art compared to many regional centres. The health service in general is attractive and the town is a great place to live.
"Orange has a lot to offer as far as sports, culture, and tourism activities and events. Tourism in the area is booming and the community is putting on some excellent events which we are loving.
"I'm also playing soccer with the Ex-Services club which I'm really enjoying. You can get some great balance and it's all too easy."
Gabriel plans to stay on in the area until his partner (now in her final year of medicine in Orange) finishes her study and possible internship.
The cost of living advantages in the area mean that many of Gabriel's colleagues at the hospital are buying houses or investment properties in the region.
While Gabriel's family currently live in Sydney, they have been "big fans" of Orange for some time and have become regular visitors.
"I grew up in the Southern Highlands in Bowral and Mittagong," Gabriel said. "Orange is very similar in many ways to that area, but with more opportunity.
"My family are all in Sydney now, but they come up a lot for the wineries and events like Food Week and FORAGE. They have been big fans of Orange for a long time. They thought it was a great idea when I moved here."
Subscribe
Subscribe to our newsletter to receive the regions latest news and offers straight to your inbox.


The Orange Region is situated within the traditional lands of the Wiradjuri Nation. We acknowledge the traditional custodianship of these lands, and pay our respect to the Wiradjuri people for their care and stewardship of these lands for more than 40,000 years and to the Elders of the Wiradjuri Nation past, present and future.